There are many different manufacturers of windows in the Michigan area. One of the most popular of these manufacturers is Pella windows. When you need Pella window repair in Downriver Michigan there are a few things you'll need to consider. I'll outline a few of these precautions in this article.
Pella Window Repair in Downriver Michigan
There are many different reasons why you would need window repair in Downriver Michigan. There could have been an accident that broke a window or you may just need to make some improvements on the windows you currently have. Either way it's usually much more inexpensive to do Pella window repair in Downriver Michigan rather than installing replacement windows in Downriver Michigan.
The Difference in Styles of Windows
There are many different styles of windows. In fact, each manufacturer has a unique style or molding for the window. If you don't use the same style or molding for the window it could cause all sorts of problems. Not only in terms of looks and appeal but also functionality. That's why it's so important to use only Pella certified replacement parts when doing Pella window repair in Downriver Michigan.
When a Window Sash Doesn't Align Properly
Window sashes are the part of double hung and single hung windows that slide up and down. They allow you to open and close the window. Many times a sash will get damaged somehow and need to be replaced. This damage could be a broken window, condensation on the interior of the glasses, or just worn out parts that don't allow it to slide correctly.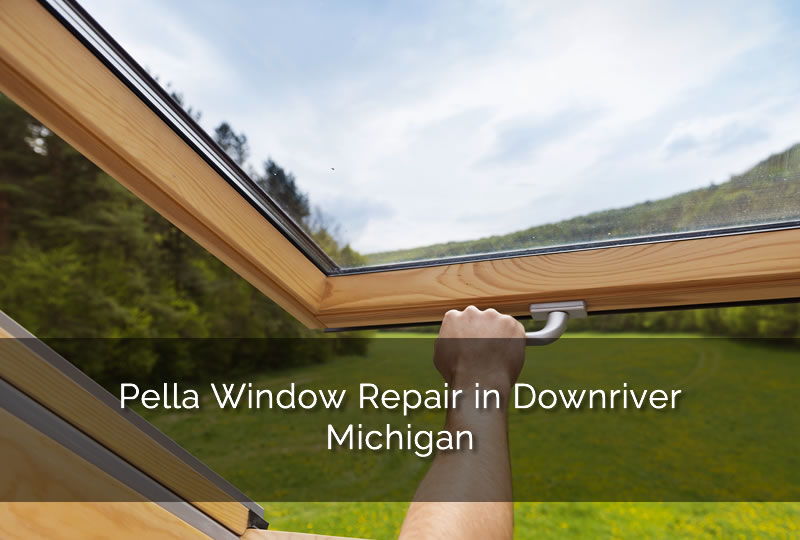 When a sash is replaced you'll need to do so with the same size sash as was in the original window. Of course you'll also need to use the same manufacturer as well. Small differences in the window may not be visible until you install the sash. One of the most common problems is the track that the sash slides in is not the same size. Having a sash that allows air around it can be a big problem giving you drafts and totally destroying the energy efficiency of the window.
Another problem that you may experience with a sash from a different manufacturer is that it's too tight. The window may be difficult to open or close or it may not even close completely. Hardware such as locks may not work correctly either.
One of the most common problems that most people will over look when getting window repair for a Pella window is the grid design and placement. This may look totally okay as the window is not beside another window. But once it is placed beside or near a window from a different manufacturer it will stick out like a sore thumb. Especially if they are the same or similar sizes. Grid patterns and placement need to really be checked before installing a new sash or doing any sort of windows repair. You may even want to leave windows repair up to the experts in some cases to get the best results.