Each and every day your home's windows face the elements of weather. From frigid temperatures in the winter to the blistering heat of middle summer, the windows of your home can take quite a series of batterings. Making sure your windows are performing as they should means you'll need to keep checking on them or get a window contractor in Downriver Michigan to do an inspection. In either case, I've outlined in this article some of the most common types of window damage in Downriver Michigan and more importantly, what you can do about it. 
The windows in your home have a huge impact on the energy efficiency of your home. And when the windows are not performing as they should you will likely face higher energy costs no matter the season. When multiple windows in your home have problems or window damage in Downriver Michigan that effect is multiplied by the amount of windows with damage. That's why it is so crucial that you take a look at the windows in your home routinely and check for these common damaged areas of the window.
Some Windows are Prone to Warping
As the temperature rises and falls the windows will expand and contract. For harsher environments such as with a Downriver Michigan winter this effect may be more pronounced here. During this expansion and contraction the window frame may warp. Although it may not seem like a problem it usually shows up with you attempt to raise or lower the window. It may feel sticky or you may not even be able to open which is dangerous if it was an escape window you may need to use in case of fire. Properly installed windows that are not warped should slide up and down with minimal force.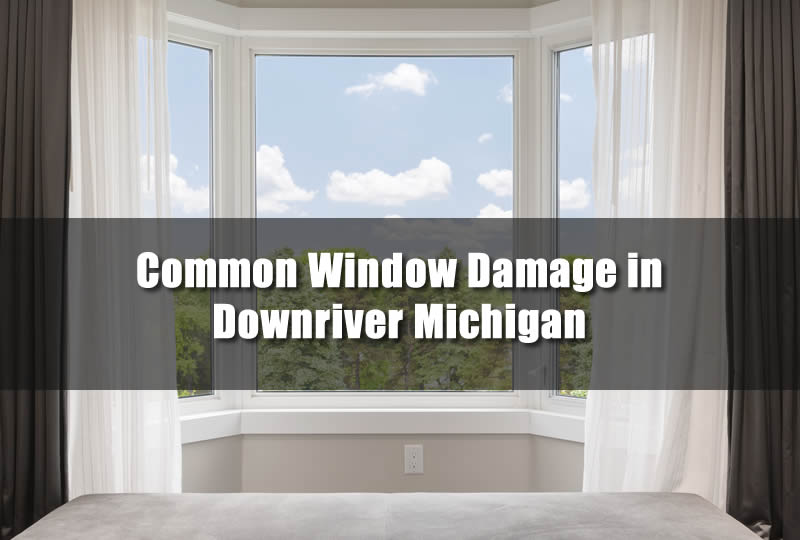 Properly installed windows that are not warped should slide up and down with minimal force. 
Wooden Windows Are Susceptible to Rotting
One of the biggest problems of wooden windows is that they require lots of maintenance. And if there was not proper maintenance and sealing the wood on the window it may start rotting. This can lead to all sorts of problems. If the wooden windows in your home are showing signs of rotting you should get vinyl windows to replace them. Vinyl windows are sold with wood finish so you'll keep the look of wooden windows without the frustration of maintaining them.
Look for Cracked Seals On the Windows
Sometimes the seals on the windows will shrink and crack. This leaves areas where the seal is no longer there and allows air to pass through. This can be bad for energy efficiency as it allows air from outside to enter the home. This is sometimes called 'drafty windows' but no matter what you call it be sure to look for this common window damage in Downriver Michigan when inspecting your windows.
Blown Glass in the Window
One of the seals that can break in a window that you may not even be able to see is the seal that holds pressurized gas between the two panes of glass in the window. Once this seal is broken the insulation factor of the window goes way down and it loses much of it's energy efficiency. One of the tell tale signs of a window sash that has a damaged seal is the condensation that accumulates between the panes of glass. You may be able to only replace the sash in order to do the window repair if the glass seal is broken.
Use Proper Maintenance on Your Home's Windows
Searching for window damage in Downriver Michigan can sometimes help you spot problems before you need a window replacement. Once every few months be sure to check your windows and look for the common problems that I've mentioned above. And if there is a problem be sure to get window repair or window replacement done on the window to repair it and get your home's energy efficiency rating back to good.

Get Window Repair or Replacement
If you find problems with your home's windows be sure to call a certified windows contractor in Downriver Michigan to help. Here at Home Windows Michigan we recommend All Point Construction for all you home improvement and window needs. Plus, they offer free estimates on window installations with a variety of specials going on for the entire spring months. Give them a call today to learn more at 734-407-7110