There are many homes today that still have wooden windows installed. In fact, many newer homes in Downriver Michigan still have wooden windows installed. Wooden windows can really make a home feel more warm and give it a look that many times can't be duplicated by vinyl or fiberglass. But wooden windows can have problems and if you're starting to see any of the signs listed in this article it may be time to replace wooden windows in Downriver Michigan. 
When Should You Replace Wooden Windows in Downriver Michigan?
Wooden windows require a lot more maintenance than any of their counterparts. Even well taken care of wooden windows can sometimes have problems that you'll likely have to replace them. Of course, some of the problems that the wooden windows might have may be able to get fixed simply by repairing them. In fact, sometimes a small repair is all that is needed to properly fix wooden windows in Downriver Michigan. This article will explain more about windows fixes and if they should be replaced.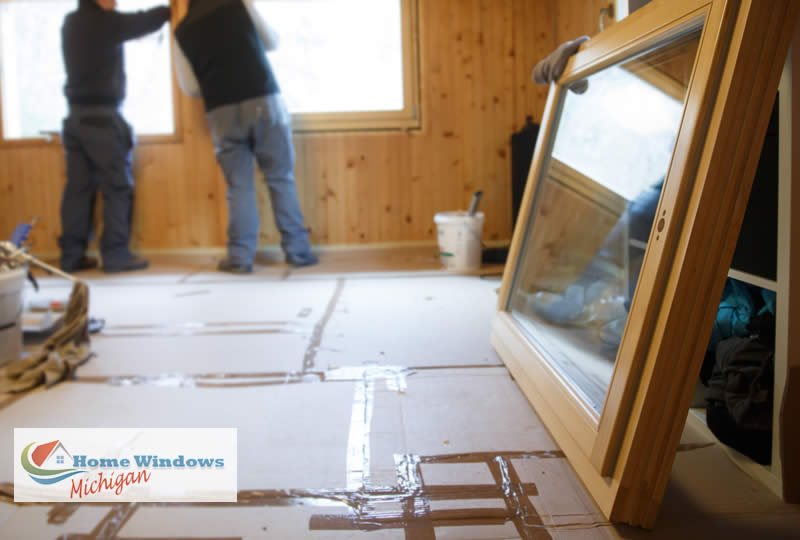 Is the Window Sill Falling Apart?
A huge problem with wooden windows is they are susceptible to rot. This is especially true on the sill of the window. The window sill is located at the bottom of the window and it's where most of the water that hits the window drains down to. So if there is the slightest bit of exposure the window sill will get wet each and every time it rains. Usually a window sill can be replaced on a wooden window but the damage may have gone into the frame of the window as well. Once a window sill has started to show damage from water or rot it's important that the window seal be replaced rather than simply covered with paint. Doing so may cause the window to shift and not close properly. It may also develop cracks in the frame which will let air through.
Is The Window Double Pane Glass?
Older windows are much less energy efficient than newer windows with double panes of glass. If your home has wooden windows that only have a single pane of glass they are not likely energy efficient. Replacing single pane windows with newer, more energy efficient double pane windows can really save you money on your energy bill. The cost of the replacement windows in Downriver Michigan will be offset by the savings you'll receive on your energy bill. You may also be eligible for tax breaks and utility discounts by installing new windows that are more energy efficient.
Most home owners don't realize that even wooden windows have energy efficient glass in them that can save money on energy bills. If you like the look and feel of wooden windows you can still replace your old windows with newer energy efficient windows even though they are wooden windows.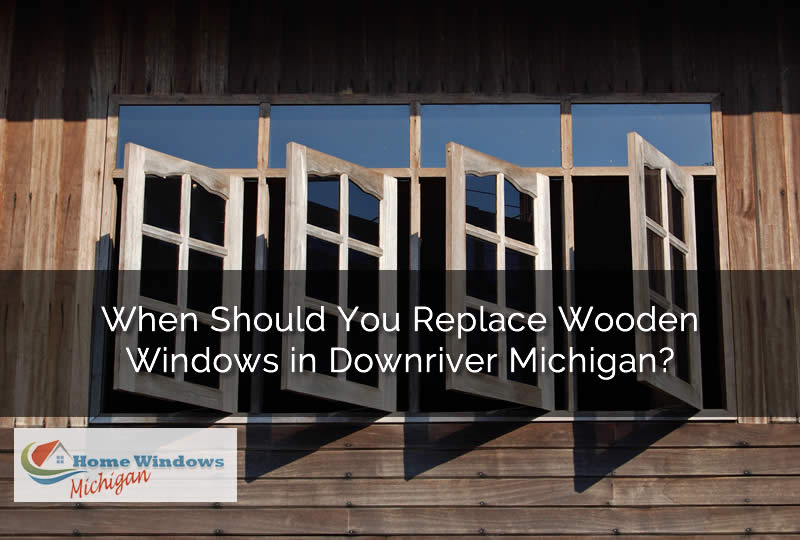 Inspect the Tracks of the Window
Sometimes windows that are opened and closed a lot have problems with the slides or track of the window. On some higher end model windows this track can be replaced. Unfortunately, on lower end windows the track is likely part of the frame and the entire window will need to be replaced in order to repair it. For windows with a bad track it's not just letting the window up and down that has problems. The problem is also that there is likely air passing around the worn track causing the window not to seal properly.
Keep Maintenance Up on The Wooden Windows in Downriver Michigan
One thing that you'll need to do is keep the maintenance on the wooden windows if they are to last. Keeping a coat of paint on them and making sure they don't have any exposed areas will need to be routinely done if the windows are to last. If you don't want to constantly keep maintaining these wooden windows there are many models that can mimic the look of wooden windows without all the maintenance. In fact, there are many windows that are made of vinyl and fiberglass that look pretty close to a wooden window but doesn't have all the maintenance requirements. If you're ready to replace wooden windows in Downriver Michigan it's best to speak with a home windows contractor in Downriver Michigan to determine the best steps to take and to get window inspections as well.