Is it time to replace the windows in your Ann Arbor Michigan home? Waiting until your windows completely fail and need to be replaced is not a good idea. In fact, depending on the age of the window it may be a good idea to replace your windows even if they are still performing as they were manufactured to do. Many times windows in Ann Arbor Michigan that are older simply don't look as good or they are not energy efficient. Replacing your windows can have a huge impact on your home's value, energy efficiency, and appearance. 
Are Your Windows in Ann Arbor Michigan Ready to be Replaced? Why Now Is the Time
If your home in Ann Arbor Michigan is extra chilly or if your windows are cracking or becoming tough to close, it may be time to consider replacing them. With newer model windows you can actually give your home much more value. Plus, with better energy efficient windows in Ann Arbor Michigan you can also cut down on your energy costs.
Whether or not you're getting ready to sell your house or just want to renovate, there are several factors that come into play when it's time to get new windows. Wooden windows tend to rot, crack, or become difficult to open and close. When windows start to warp or crack, drafts flow into the house, making for chilly winters. If your house is relatively old (built in the 70s or earlier), then there's a good chance the windows are single-pane. Single-pane windows are notorious for letting in drafts and UV rays, which can cause carpet and furniture to fade. Even if you're windows are still functional, you may just want an upgrade to keep up with the times and stay trendy. Thanks to tremendous advancements in technology, windows are becoming more energy efficient than ever.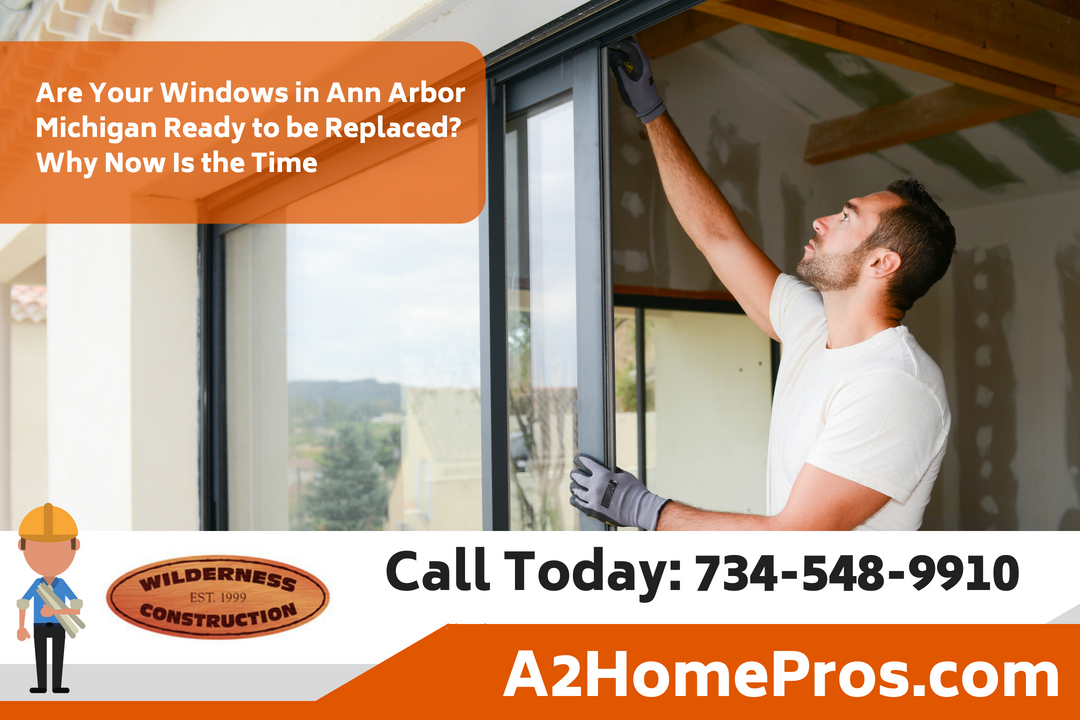 Lower Your Energy Bill
Although the upfront costs of installing new windows may be high, you will save on your energy bill in the long run. Installing energy-efficient, multi-pane windows helps maintain the temperature in your house and prevents cold air from getting in. According to Energy Star, if you install Energy Star-certified windows in your home, you can save 7 to 15 percent on your energy bill. The additional insulation of that comes with energy-efficient windows is especially helpful if your wall or attic insulation is thin. Window manufacturers are taking extra steps in the manufacturing process by injecting argon and producing windows with low-emissivity coatings to create a perfect seal and in some cases, actually deflect heat back into the home during the winter time. So not only are double-pane and triple-pane windows great for lowering your utility bill, but they're also great for adding extra character and charm to your home.
Spice up Your Home
Let's face it: your wooden windows from the 80s probably aren't in style anymore. Aluminum window frames bring your home up-to-date with the 21st century and insulate so much better than wooden frames. They're easier to clean, low-maintenance, and come with pre-finished stains. Whether you go with double hung, bay, or sliding windows, you can be certain that the upgrade will boost your home's value. Contrary to popular belief, installing new windows isn't as hard as you'd think – A2 Home Pros in Ann Arbor Michigan provides efficient installations and quality that can't be beaten.

Choosing a Contractor in Ann Arbor Michigan
Regardless if you're completely gutting your windows or just making minor repairs, you should hire a professional contractor to do the job correctly. A2 Home Pros offers quality window repair and installation services at a great price in Ann Arbor Michigan. If you want to learn more about installing windows or about what they offer, they can be reached at 734-548-9910. Remember, it's crucial to choose a quality window installation contractor in Ann Arbor Michigan to maximize your return on investment (ROI). According to CNBC, vinyl replacement windows have an 85 percent return on investment. Don't choose a contractor in Ann Arbor Michigan solely based on price, because the quality of the work is much more important so that the windows can withstand the tests of time and add both value to your home and help you save on your utility bill. Call A2 Home Pros today at 734-548-9910 to schedule your free, no obligation consultation on new window installation.