New windows installed in your home can give you a sense of safety. They can also make your home look better and also make your home more secure against the weather elements here in Downriver Michigan. There are some things that you may not consider when getting new windows in Downriver Michigan however. These hidden benefits that new windows can add can make your home better, more secure, and worth more. I'll go over these hidden benefits below. 
4 Benefits of Adding New Windows in Downriver Michigan to Your Home
Most home windows are designed to last about 15 years. After 15 years most times the windows will start to fail and not be as energy efficient as they once were. Not only that but newer home windows that are manufactured today can be much more energy efficient than those made just 15 years ago. If your home has windows that are over 15 years old then you may need to consider getting new windows installed in your Downriver Michigan home. Here are some of the hidden benefits of getting new windows installed in your home: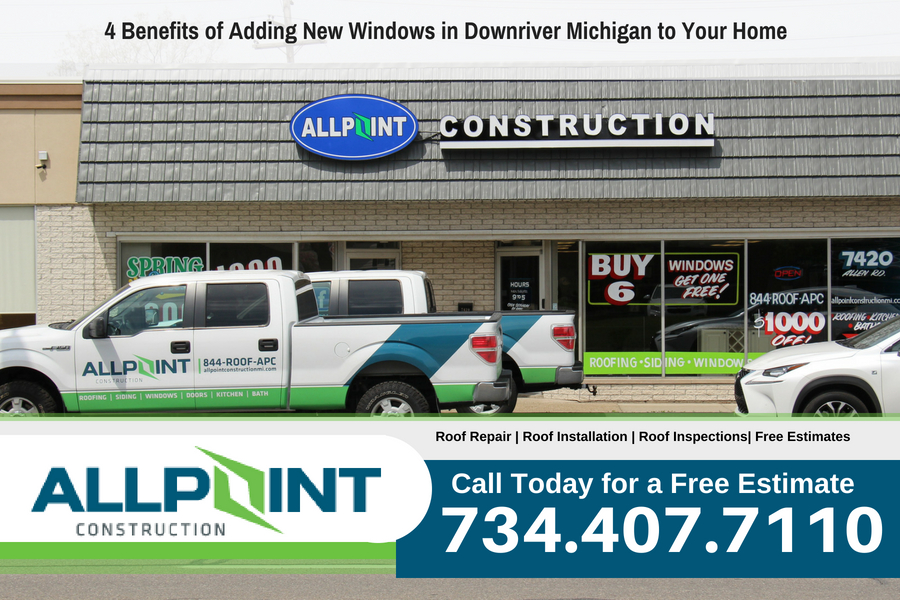 Improve Your Home's Value
One of the best home improvement projects you can do in order to increase the value of your home and to get the most return on your home improvement dollars is to replace the windows in your home. Not only will it make the home more energy efficient which can save you money over the long run but it can also improve the curb appeal of your home. Improving the curb appeal of your home can have a direct effect on the value perception of your home.Adding curb appeal increases the value of your home and replacing your home's windows can add curb appeal. That's why replacing your home windows is such a great home improvement project.
Better Sound Atennation
Do you live near a noisy intersection in Downriver Michigan? Maybe there is a busy street or some other noisy area. Windows that are manufactured today can reduce much of the noise that may bother you. Getting windows that have triple pane glass is a great way to reduce the noise that enters through the window. Another option that can help cut down on noise that can be added to a triple pane window is to get tempered glass on the window. These options can really help cut down much of the noise you may be experiencing in your home through your home windows.
Cut Down UV Rays
The UV rays from the sun can cause damage to your furnishings in the home. This is very evident once you decide to move furniture around. Newer home windows are coated with a protective film that can cut down on UV rays that enter the home. This can help to protect the furnishings of your home and keep them from fading.
New Windows are Low Maintenance
Are you still painting your old wooden windows and making sure they are not being eaten by insects or suffering from wood rot? The home windows that are manufactured today from vinyl and fiberglass don't have the same maintenance requirements as older, wooden windows. Once a vinyl window is installed there is literally no maintenance that you'll need to perform. You can clean the window much easier and make inspections on the window but the overall maintenance of the window is very low. Vinyl windows can also be designed to look much like wooden windows with a veneer coating that also does not require much maintenance. If you're tired of keeping up your home's old wooden windows in Downriver Michigan be sure to check out some of the newer vinyl replacement windows in Downriver Michigan.
Want To Learn More About Home Windows for Your Home in Downriver Michigan?
If you're considering getting replacement windows in Downriver Michigan be sure to call the area's top window contractor which is All Point Construction. All Point Construction is a fully licensed and insured home improvement contractor in Downriver Michigan and offers free consultations on windows projects in Downriver Michigan. Call All Point Construction today at 734.407.7110 for a completely free, no obligation consultation on your home windows project in Downriver Michigan.