Let's face it: replacing your windows in Downriver Michigan can be expensive and overwhelming. That's why it's helpful to completely understand the process of choosing and installing replacement windows in Downriver Michigan before you do so. So, continue reading for everything you need to know about replacement windows!
Ultimate Window Replacement Buyer's Guide for Downriver Michigan
Compare Different Materials
Choosing a material is argumentatively the most important and difficult aspect of replacing your windows in Downriver Michigan. After all, it's important to choose a material that is durable, resilient, and attractive. It's also important to keep in mind the climate you live in. For example, someone who lives in a hot and humid climate should choose a different window material than someone who lives in a cold area that experiences a ton of inclement weather.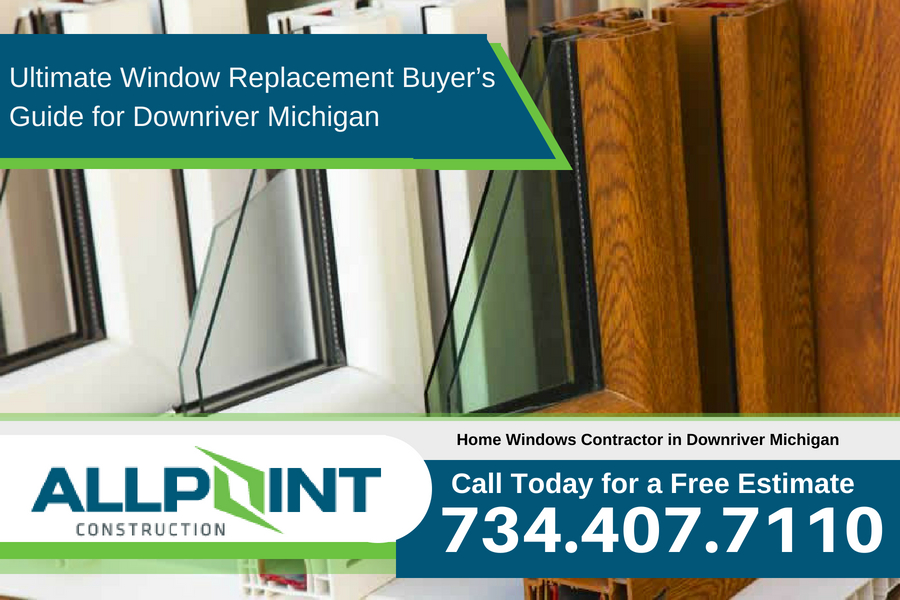 That being said, here is a breakdown of the most popular window materials!
Wood: One of the most aesthetically pleasing and expensive materials on the market. With wood, you will have truly unique and aesthetically pleasing windows. Although wood is expensive, you definitely reap benefits for the price because it's one of the most thermal resistant materials.
Wood Clad: Although wood is aesthetically pleasing and thermal resistant, it requires high maintenance. That's why wood clad was created. Wood clad incorporates other materials, such as vinyl, so you don't have to worry about the maintenance requirements of pure wood.
Aluminum: One of the most affordable window materials currently on the market. Although it's durable in inclement weather, aluminum is prone to cosmetic damages, such as condensation and mold.
Vinyl: With a variety of color and design options, vinyl is argumentatively the most versatile window material. It's also long lasting, requires little maintenance, and extremely affordable. The only downside is, you can't paint it.
Composite: Composed of a variety of materials, some of which are organic, composite is extremely durable and energy efficient. It also comes in a variety of colors and is easy to tailor for custom orders.
Choose a Design
After choosing your material, it's important to consider what kind of design you want. Although there are many different window designs, here are some of the most common!
Double-Hung: A single frame includes two sashes that you can vertically slide.
Casement: Although casement windows typically open horizontally like a door, you can choose vertical casement windows that utilize a cranking knob.
Sliding: Utilizes a metal track, so you can horizontally slide it.
Awning: Usually incorporates another type of window design. Utilizes a top panel of glass in conjunction with a top hinge to open.
Hopper: Commonly used in basements. Hopper windows have a bottom hinge and open from the top.
Clerestory: If you have high walls and want to expose the top portion to allow an influx of natural light to enter, clerestory windows are the perfect option for you.
Rotating: With a focal point of a central axis, rotating windows have a series of lass panels that are perfectly curated to showcase a specific view.
Arched: Usually fixed in place, so you won't be able to open and close them. Arched windows are more so used for design and light purposes and feature an arched top.
Bow: Protruding from the wall, bow windows utilize a subtle curve shaped composed of a series of glass panels.
Bay: A large central window is the focal point of this protruding window design. Angled windows are featured on either side of the central window.
The Truth About Affordability
Research shows that replacement windows usually cost between $500 to $1,200 per unit. It's important to keep in mind that this price fluctuates depending on a variety of factors, such as how many windows you're replacing, the materials you use, and the type of window design you want.
Always Hire a Professional
Although DIY projects are all the rave right now, replacing your windows in Downriver Michigan isn't something you want to do by yourself. You need an adequate amount of experience, skills, knowledge, and special materials and equipment to properly replace windows. Unless you're a window contractor in Downriver Michigan, you most likely don't have the necessarily skill set or equipment.
That's why you should leave your window replacement to a professional window contractor. By hiring a local window contractor, you will have peace of mind knowing you saved money and are getting premium quality and safe new windows. Plus, you can use the time you saved hiring a professional for your window replacement to do a fun and crafty DIY project to use around your home. Be sure to call All Point Construction today to get a free consultation on replacement windows in Downriver Michigan at 734-407-7110.