When it's time to choose a replacement window for your home there are many different choices that you may be bombarded with. Being able to determine just which replacement windows in Dearborn Michigan you should choose and why is really important. Replacement windows can increase the value or your home as well as make it more energy efficient. However, if you choose the wrong replacement windows for your home, they may not. I'll provide some tips to help you choose the best replacement windows for your home. 
Tips for Choosing the Best Replacement Windows in Dearborn Michigan
One of the biggest questions that home owners will ask when considering replacement windows is whether or not their current windows are performing as they should. The best way to determine this is to have a window contractor come out and take a look. There are some things that you can do as a home owner to help determine if your windows are performing properly. Make sure to read this post to learn more.
One thing I want to add is that window technology gets better each and every year. Even if your windows are performing as they should and were manufactured twenty years ago. They may not protect your home like newer replacement windows in Dearborn Michigan.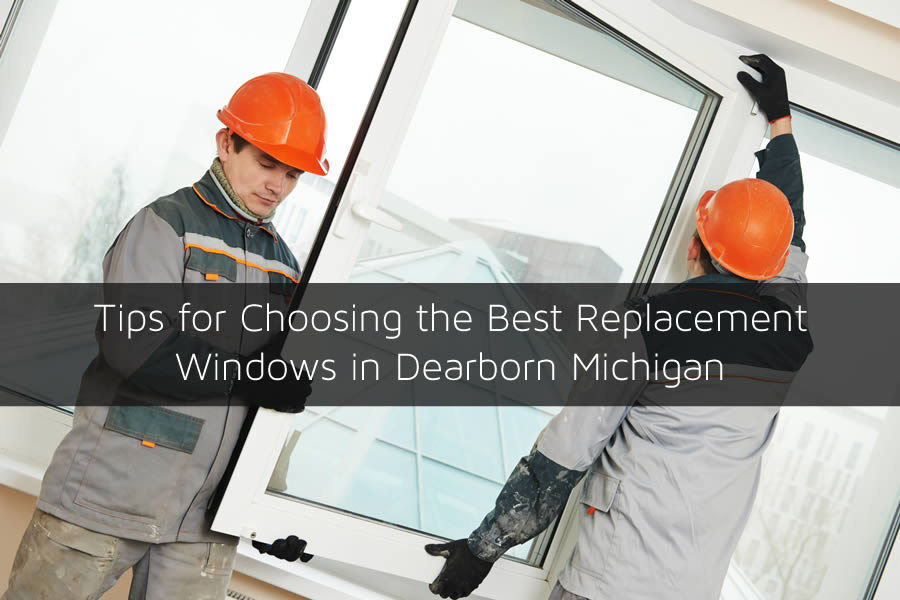 Even if your windows are performing as they should and were manufactured twenty years ago. They may not protect your home like newer replacement windows in Dearborn Michigan.
Know the Energy Efficiency of the Windows
The biggest advantage of installing new replacement windows in your Dearborn Michigan home is that it brings better energy efficiency to the home. However, just because it's a new window doesn't mean it's more energy efficient. All windows and doors today are required to have the energy efficiency rating displayed on them. As a home owner this can help you better determine which windows are more energy efficient. Lower quality windows may cost less initially but will likely be less energy efficient costing you more over the long term.
Best Frames for Replacement Windows
The frames that are on the replacement windows may also affect pricing on the windows. Higher quality frames will likely cost more. Vinyl frames are the most common type of window frame because it's affordable, requires little maintenance, and it's also extremely energy efficient. Plus, vinyl replacement windows can be made to look like other window frames such as wooden frames.
Higher Quality Windows Will Likely Cost More
Having energy efficient windows installed in your home will save you money over time. In fact, each month when you get your energy bill you can be saving money by installing newer replacement windows in Dearborn Michigan. However, there is usually a trade off when it comes to window prices. Higher quality windows like those offered by Pella with more energy efficiency will usually cost more. They may also have other additional items such as upgraded locks, or easy cleaning mechanisms in place. Finding a happy medium for energy efficiency and price can give you the best of both worlds for initial cost versus savings over time.
Glass and Coating Are Important
The glass in the window can be really important for energy efficiency. You can have single, double, or triple pane glass now. Single pane glass is rarely used today because it's not very energy efficient and likely only used on buildings that are attempting to keep a historic look or feel. The most common is double pane glass which is the standard today. Triple pane glass is available and adds noise reduction as well as more energy efficiency to the windows. Window glass may also be coated to block UV rays to keep furniture and carpeting from fading from sunlight coming through the windows.
Getting an Estimate on Replacement Windows
If you're unsure about the condition of your home's windows and need an inspection one of the best window contractors in Dearborn Michigan to call is All Point Construction. They also provide free estimates on replacement windows in Dearborn Michigan. They are a fully licensed and insured home improvement contractor in Dearborn Michigan and can help you get the window installation at a great price while maintaining the highest level of quality. Give All Point Construction a call today at 734-407-7110 to learn more and speak with one of their window experts.