The look and warmth of wooden windows can give a home a distinguished look and feel that is hard to match. And while appearance is everything for some home owners, others look for more beneficial features such as energy efficiency. In this article we'll take a look at both wooden windows and vinyl replacement windows in Dearborn Michigan to help you choose the perfect windows for your home. 
Should You Choose Wooden Windows Instead of Vinyl Windows in Dearborn Michigan?
If you are considering replacement windows in Dearborn Michigan, and your choices are wood vs vinyl windows, you definitely should opt for vinyl. Many become attached to their older wooden windows, but get very exasperated when the wood swells and they have trouble opening and closing them. The thin glass of old wooden windows breaks very easily. Why buy back your old problems by replacing your old fashion wood framed windows with wood when you can have new vinyl windows?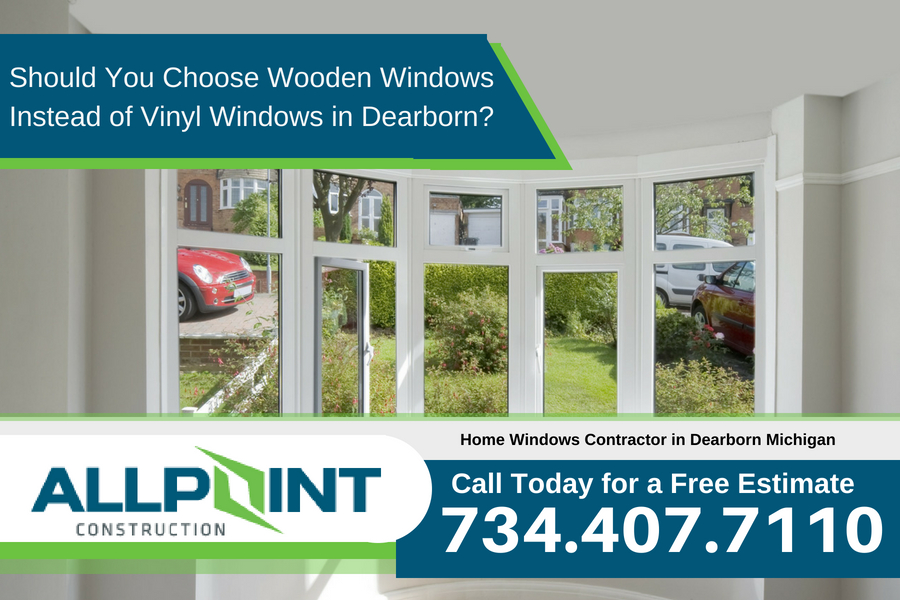 What is the Problem with Wooden Windows?
Modern technology has worked hard and identified the main problems with the older wooden framed windows. Innovative solutions have made vinyl windows an affordable wonder to install in your home with a good look, no matter what the year or style of your home.
Why is Vinyl the Best Choice When It Comes to Wood vs Vinyl Windows? 
A selection of colors and styles are offered to fit any decor catering to your home on the inside and the outside with vinyl windows in Dearborn Michigan. These extremely energy efficient windows will definitely add to the value of your home. Lets look at a few of the main features of vinyl windows and their value above wood framed windows. Some of these features can be found in newer wooden framed windows as well.
Vinyl Windows Are Energy Efficient- The older wooden windows have a very thin glass pane which lets heating and cooling escape. You need to put plastic covering over the old wooden framed windows in an attempt to keep the heating and cooling in. Vinyl windows are typically double or even triple paned, and made from PVC (polyvinyl chloride) which is known for it's insulation value. They definitely keep the heating and cooling in your house where it belongs. You will be astonished how much your energy costs will go down. There will also be an energy efficiency rating on the windows. Be sure to compare the vinyl windows with wooden windows to determine just how energy efficient they are.The glass on vinyl windows is also likely glazed with "Low-E" which prevents harmful UV rays from entering your window if the sun shines directly on it.  Non-Toxic Argon gas is injected into the middle of the panes to provide additional insulation. This is the way to go for the ultimate comfort and efficiency while heating and cooling your home in Dearborn Michigan.
Vinyl Windows Are Easy to Maintain– Vinyl finished window frames are definitely easier to maintain than wooden frames. "Spot Cleaning" with a damp cloth is all that is required to keep the frames clean, there is no need to deal with refinishing. All of the amenities are right there for your ease with vinyl windows. There is also vinyl windows that have a wooden appearance so you get the look of wooden windows with all the benefits of vinyl windows in Dearborn Michigan.
Vinyl is the Obvious Choice in Wood vs Vinyl Windows
Vinyl windows in Dearborn Michigan are very affordable, as mentioned earlier, and definitely a worth while investment which you can enjoy for years to come. They come in many beautiful styles, as a standard sized window, or as the focal point and picture window for your living area or family room. You'll not only get the benefits of a better looking home but you'll also be saving on energy costs for years to come.

Get a Free Consultation on Vinyl Replacement Windows in Dearborn Michigan
Find out the many benefits and request an estimate so you can have all of your questions answered and make style selections when it comes to wood vs vinyl windows. Call All Point Construction today at 734.407.7110 to learn more and get a free, no obligation consultation on vinyl or wooden windows for your home.