Having windows in your home that are not performing as they should can cause all sorts of problems in your home. One of the biggest problems is that they are not energy efficient and cause your utility bills to go through the roof especially during winter months when it's so cold here in Michigan and during those blistering days of summer which makes your air conditioner work overtime. Replacing the windows in your home can give you better energy efficiency among other things but you'll need to know what you're buying. In this article I'll go over some replacement windows in Michigan shopping tips that you can use to better choose the windows that will be replaced in your home. 
If you aren't sure whether your windows need replacing or not it's a good idea to do a quick inspection on them. Look at the frames and if they don't slide correctly, seem to leak air inside, or they show signs of rotting (for wooden windows) then you may want to get them replaced. In order to really be able to determine if your windows needs to be replaced or not you'll want to enlist the help of a window contractor in Michigan. Getting a certified window contractor to inspect your windows can give you a better idea of just what you need. The age may play a part in the window replacement as well with older windows being much less energy efficient.
Determine What Needs to Be Replaced
Sometimes the entire window in your home may not need to be replaced. If you have newer windows that are showing a problem you may be able to just replace parts on the window such as a window sash rather than the entire window. If the window has been leaking water the damage can go farther than just the window however. Sometimes walls below windows can be damaged causing more damage to need to be fixed. Older windows may also need to be replaced due to the fact that the components may not be available for them.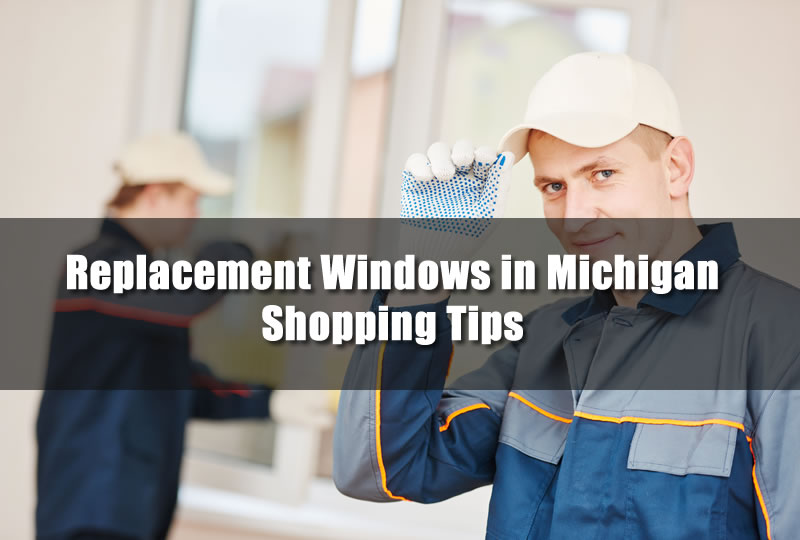 Sometimes walls below windows can be damaged causing more damage to need to be fixed. Older windows may also need to be replaced due to the fact that the components may not be available for them.
Look at Energy Efficiency Ratings of Windows
All the windows and doors that are sold today must have an energy efficiency rating promptly displayed on them. So if you're considering buying windows for your home then you'll need to ensure they are energy efficient. Higher quality windows will likely be more expensive but will likely also offer more energy efficiency for your home. This means the  windows will pay off over time saving you from higher energy bills and keeping your home more comfortable.
Types of Windows Frames and Models Available
The most common type of window frame available today for replacement windows in Michigan is vinyl. There are other choices however including fiberglass, aluminum, and wood. All of which can be expensive and have maintenance issues that you'll need to deal with. Vinyl replacement windows however are typically very low maintenance and look great. In fact, some higher quality vinyl windows can mimic the look of other window types including wooden windows. If you're considering getting replacement windows in Michigan then one of the most recommended frames to get is vinyl windows even when your home may have other window frame materials installed.

Get a Window Contractor to Install the Windows
A huge problem that many home owners have when considering replacement windows in Michigan is they want to do the work themselves. While in some cases this may be possible but for most home owners it's best to get a qualified window contractor in Michigan to inspect and install the windows. Incorrectly installing the windows can actually cause your home to be more drafty and raise energy costs rather than lowers them.
Want a Free Estimate on Your Window Project?
If you're looking to get a price on installing replacement windows in Michigan be sure to visit All Point Construction. They are a recommended window contractor here at Home Windows Michigan. Or fill in the Quote form located on the right side of this page.