Are you considering buying new windows in Woodhaven Michigan? Our expert tips and advice will help you know what should be considered when it comes to buying new windows for your home. Windows can be a great investment for a home improvement project but there are some things you should consider when getting this popular home improvement project done which we'll cover in this article. 
Expert Advice and Tips for Buying New Windows in Woodhaven Michigan
Energy efficient windows are on the top of the list when it comes to purchasing new windows. High performing windows keep the temperature in your home consistent all year round, so no matter what the weather is outside, you will be comfortable. Plus, you'll enjoy the added benefit of lower energy costs every month as well.
What Should You Consider Before Buying New Windows?
Buying new windows in Woodhaven Michigan is a good investment and will help you save money in many ways. Modern energy saving technology and innovative designs have made a wide array of options and choices available. The style designs offered in vinyl windows are absolutely beautiful. What are some of the main considerations and tips that help make the selection process easier?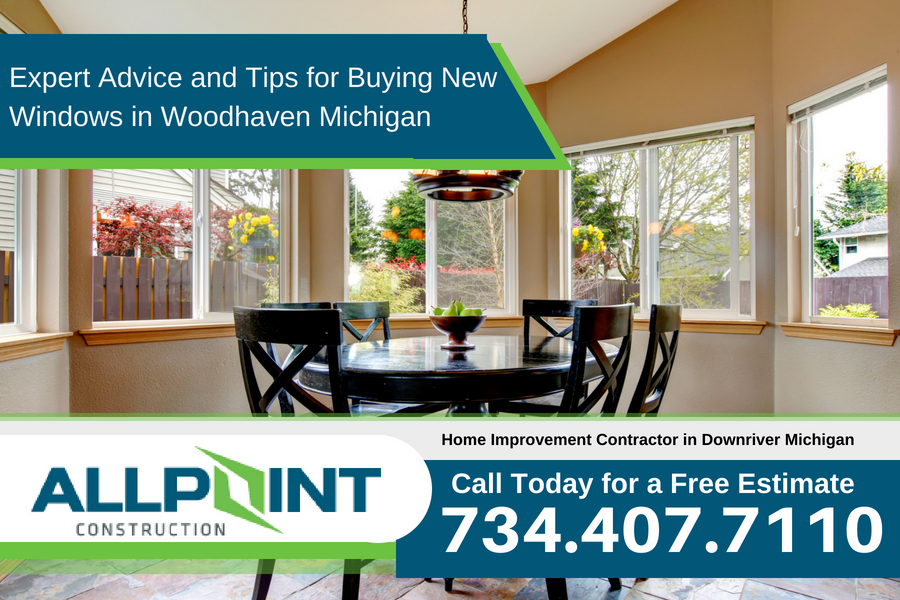 Window Frame- The window frame is an obvious consideration when it comes to shopping for a new window. It is the enclosure structure for your glass. The decisions you make for frame material will be greatly influenced by style preference, upkeep, and cost. Vinyl window frames have far more advanced features than wooden frames and are very affordable providing good quality for your money spent. Composite frames, also known as "fibex", are highly desirable but can be very expensive.

The aesthetic value of vinyl windows fitting in with the look of your home or business, will definitely not be a problem with the styles, shapes, and colors available on the market today. It is best to get a frame that is welded as one solid unit so you do not have to be concerned about the mitered edges shifting or coming a part.  You don't have to worry about the finish on vinyl or composite materials as you do with wood window frames. Wood also swells when moisture is in the air.
Window Glass- Low-E glass is the way to go when it comes to modern replacement windows. Look for windows that use spectrally selective glass which keeps infrared light out while letting natural light in. Solar control on your glass will keep the cooling in during the summer, and the heat in during the winter. There are different types and degrees of Low-E when it comes to window glass. The choice will be a matter of personal preference. Talk to your window expert when making your purchase and ask them what the choices are.The thickness of the glass is also an important feature to take into consideration. Make sure it has double strength. The best way to go with the glass is to have it layered and filled with a special gas that creates insulation. Modern technology and innovations have made this possible for the best selection in choosing your window glass.

The wooden framed windows of the past had very thin and easily breakable glass, as you probably know. Glass on a single pane needs to be at least 1/8 inch thick. The sealing factor attaching the glass to the windows was also very weak in the older windows making them low in efficiency and energy saving qualities.
Ratings and Value- The best way to know if you are getting the best value with well constructed windows is to pay attention to the overall rating scores. Most constructed materials have an R-Value. Windows are rated by the "National Fenestration Rating Council". They help consumers to know the energy performance and important features to look for when buying windows.
The Final Selection When Buying New Windows
Buying new windows is definitely a good investment, as mentioned earlier, which brings up the value of your business or home. New windows not only add to the value but save you money in energy costs, they add to the decorative element, and provide comfort and ease. There are many styles and selections to choose from and you will find the perfect high performance windows for you and your budget. Buying new windows can be a very rewarding experience lasting for years to come.
If you're considering getting new windows for your Woodhaven Michigan home be sure to call All Point Construction for a free estimate at 734-407-7110. They are fully qualified and licensed home improvement contractor in Woodhaven Michigan that offers window replacement services.