When windows first came on the market they were crude and not very attractive. In the past 40 or 50 years however, home window technology has come a long way. In fact,  in the past 20 years window technology has grown by leaps and bounds. Not only from a construction of the window standpoint but also in terms of energy efficiency and safety as well. Choosing the best replacement windows in Dearborn Michigan for your home means you'll need to know a bit about the windows you'll be getting. I've outlined 6 tips in this article to help you get the best possible windows for your Dearborn Michigan home. 
6 Tips for Choosing the Perfect Replacement Windows in Dearborn Michigan
Replacing the windows in your home with newer, more modern, energy efficient windows can have an impact on your home's value. Not only will the newer windows increase the home's value by making it more energy efficient but it will also likely increase the curb appeal of the home as well making it increase in value. In fact, many home owners consider replacing the windows in their homes with replacement windows to be the number one home improvement project that has the most return in Dearborn Michigan.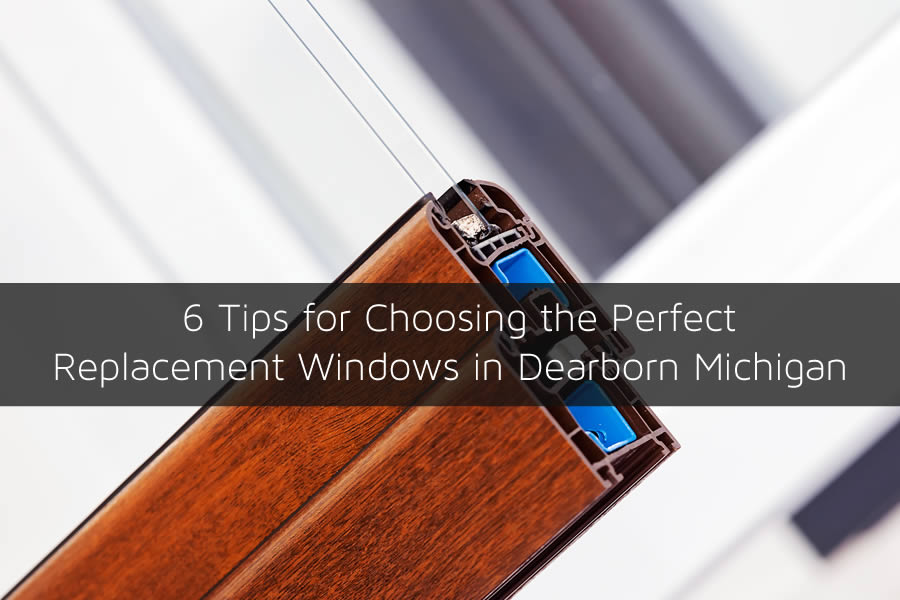 Economical Windows Are Great But Getting Higher Quality Windows Are Better
A great thing about replacement windows made today is that even the low quality windows still provide good energy efficiency. But in order to really take advantage of all the best things about replacing your home's windows you'll need to look at some of the higher quality replacement windows. Like anything else, the higher quality windows may cost more initially but save you more down the road.
Choose the Best Glass for Your Replacement Windows
Today's windows have all types of options when it comes to the glass in your windows. Most replacement windows manufactured today have a minimum of 2 panes of glass with a pressurized inert gas in between the glass. You can also get triple pane windows as well which is usually more energy efficient and provides noise reduction as well. Very useful if you live near a freeway or other noisy situation. Tempered glass can also help to reduce noise as well. Another option that will be offered is getting low-e protection on the glass to reduce UV rays that can fade and damage furniture and carpets.
Ask About the Warranty for the Replacement Windows
Of course you'll want a window that will last a long time. After all, replacing your home's windows is not as common as rearranging the furniture. So in order to get the most out of your windows you'll need to understand the warranty that is attached to the windows. This can include the manufacturer's warranty as well as any guarantees from the window contractor that installs the replacement windows as well.
Check the Energy Efficiency Rating of the Replacement Windows
Unlike in times past when the home owner had to take the word of the salesman on how energy efficient the windows are, windows made today must have the energy rating displayed so you can see. All windows sold in the United States are required to have this information and it allows you to compare windows more easily and get the best replacement windows for your home.
Check Maintenance Requirements of the Windows
Most home owners use a vinyl window frame in their replacement windows simply because it looks great and there is hardly any maintenance that needs to be performed. When compared to wooden windows which may need to be sealed, primed, and painted from time to time it can really cut down on some work. Plus vinyl windows will hold their sheen much longer in most cases.
Add a Splash of Color the Your Replacement Windows
Most windows that are made from vinyl are white in color but they don't have to be. Vinyl and fiber glass framed windows can be ordered in a variety of colors and shades. There are even wood grain windows made to mimic wooden windows that are available. However, these windows are usually more expensive and would require special order in most cases.
Get a Free Estimate for Your Home Windows Project
Want to know more about getting replacement windows installed in your Dearborn Michigan home? Call All Point Construction today at 734-407-7110 to get a free estimate on replacement windows in Dearborn Michigan.