Nowadays, it seems like every homeowner wants as much natural light as possible. While large windows, such as bay windows and bow windows, can provide this influx of natural light, sometimes it's not enough. Skylights are one of the easiest ways to bring as much natural light as possible into a home. Of course, you'll always want to use a reputable and qualified window contractor in Downriver Michigan to install the skylights for you. Continue reading to discover six major benefits of skylights.
6 Benefits of Skylights in Downriver Michigan You May Not Have Considered
There are many options for skylights today that you can enjoy for your home. Even for areas in your home that may seem like an impossible fit for a skylight there are options that can be used to basically 'pipe in' sunlight. Not only will adding a skylight help improve the lighting in your home but it can also add value to your home by making it more energy efficient. Here are some of the key advantages you'll enjoy by getting a new skylight installed in your Downriver Michigan home: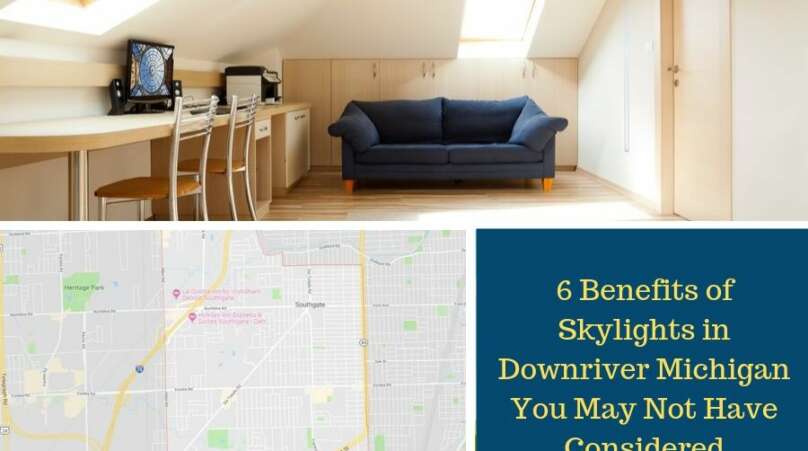 Reduces Carbon Footprint
Skylights are actually pretty energy efficient, which means it ultimately lowers your carbon footprint. Since skylights will bring an increased amount of light into your home, you will be less inclined to turn on the lights. Not only is this better for the environment, but it will also decrease your electricity bill.
Air Quality
If you choose a skylight that opens up, you could actually increase the air quality in your home. Natural air from outside is good for your home's ventilation. Additionally, you won't feel inclined to use air conditioning appliances, such as a fan. There are also models available with remote access so you can control the skylight from the ground level.
Privacy
Although windows like bay windows or bow windows bring an influx of light into your home, they also lower your privacy. Since windows are usually placed on the floor level of your home, your neighbors can see everything you do inside your home when the windows are open. But, you won't have this concern with skylights. Skylights are installed in the roof, which means you don't have to compromise privacy for light. Using a tube style skylight can also help to improve privacy.
Aesthetically Pleasing
Not only do skylights provide energy, air, and privacy benefits, but they also add curb appeal to your home. Like previously stated, most people look for a home that has a ton of natural light. Skylights will provide this natural light in addition to adding a design element to your roof. Between the increase of natural light and design to your roof, your roof will have a new design aesthetic that will also maximize your home's value.
Space Illusion
Bringing an increase of light into a space is one of the best ways to make a smaller room look and feel larger. Skylights will provide your home with maximum natural light, which will ultimately brighten your home and make it more welcoming. Suddenly, what may have been a small, quaint room will seem like a large, open space.
Enhances a Home
Between bringing in more light into your home, illuminating every crevice of a space, and adding a design element to the inside and outside of your home, skylights ultimately enhance a home. With the addition of one or more skylights, your home will have better definition and a more cohesive architectural design. A professionally installed skylight can help to improve your home's value as well both in curb appeal and energy efficiency.
Not only will this make you feel prouder of your home and generally more comfortable living in it, but this is ultimately a great quality to have if you ever decide to sell your home. Like previously stated, skylights add value to home, which can help you sell your home quicker and for a better price.
For more information about installing skylights in your Downriver Michigan home, be sure to contact All Point Construction today at (734) 407-7110. All Point Construction offers free consultations and quotes on skylight installation for residents of Downriver Michigan. You can also send them a message on their website at https://allpointconstructionmi.com/our-contacts/