Replacement windows are a great investment to make for your home. With increased efficiency and resale value, it is an easy decision to make. But with so many different window style options, it can get overwhelming to choose the right replacement windows in Allen Park Michigan for your home. There are many different types and styles of windows that you can choose for your home but they may not get the desired look you want for your home. This is especially true for larger windows such as bay or bow windows. We'll guide you through what you should be looking for when choosing these windows for your home.
How Do You Know If Bow And Bay Windows in Allen Park Michigan Are Right For You?
Bow and bay windows are beautiful features to your home with many benefits. But choosing them does also come with downsides. To make sure your decision is the right one, it is important to understand the pros and cons of bow and bay windows in your home. Whenever you get new windows installed in your home it's best to have a qualified contractor install them for you. This can eliminate many of the problems you may have if you attempt to DIY your windows. You can also discuss the different options that are available with the contractor as well which can help tremendously when getting new replacement windows for your home.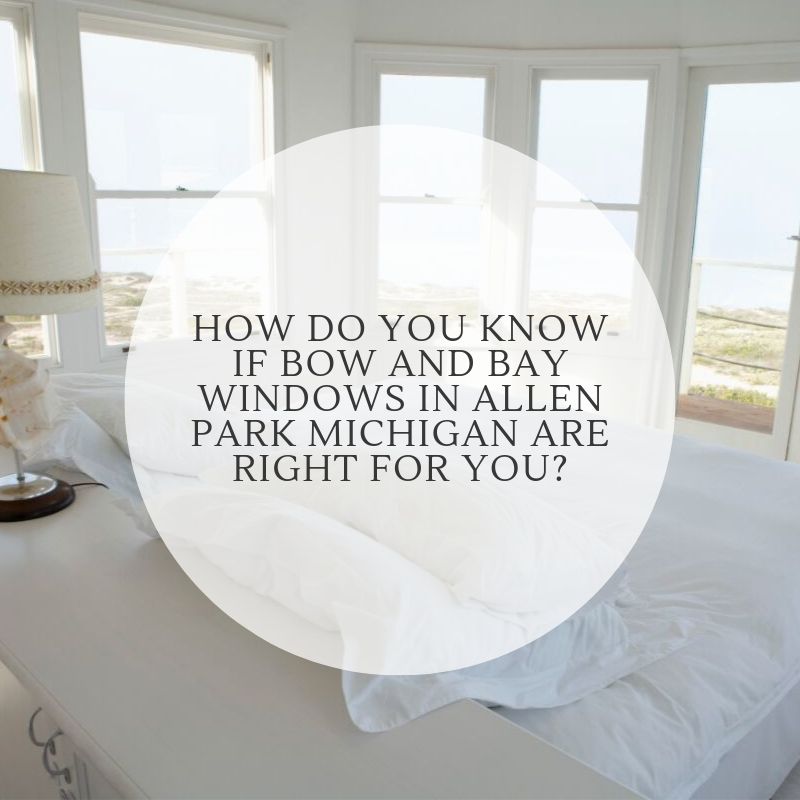 What Is The Difference Between Bow Windows And Bay Windows
While the average person may not be able to tell the difference between a bow and a bay window, there are important distinctions between the two designs.
The construction of a bay window features three separate window panels. There is one large one, with two slimmer windows on either side. Bow windows are designed to have a more curved look, like a semi-circle. This requires around four to five different window panels, all around the same size.
Bay windows have a much more modernized look, making it perfect for newer homes and can easily work in more narrow spaces. It also provides you more space. Bow windows work well with older architecture like Victorian- style homes. They can also wrap around the home, creating more customizable options and better views.
Perhaps the most important difference, the bow window is going to cost you around 2.5 times what a bay window will. This is because a bow window requires more customization and materials than a bay window.
Benefits Of Bow And Bay Windows
Bow and bay windows are designed to be more of a feature than anything else. Providing a beautiful view and lots of natural light, they are great for those who want to spend a lot of time looking outside. They can be designed to provide you with a nook- like an area that can be great for enjoying a cup of coffee or reading a book.
With energy efficient coatings and multiple pane options, you can also increase how eco- friendly your home is and decrease monthly energy bills. And of course, if you are looking to sell your home a bow or bay window greatly increases the value of your home and the asking price if you want to sell.
Down Sides To Bow And Bay Windows
Large picture windows like this are designed to be all about aesthetic. But this means that you sacrifice on functionality. You cannot open bow and bay windows to let in a breeze, or exit during an emergency. They also cost more than your standard windows will. While the return on investment can be high if you sell your home, the upfront cost is something you need to consider.
You also need to make sure that the area you want the bay or bow windows installed is able to handle the construction. It involves opening up the walls further and changing the way the weight of the wall is distributed load bearing walls or walls with pipes or electrical running through it can be very costly to reconstruct and insert a picture window. This can mean having to change the size or location of the bow or bay window, or pay a lot more money.
Discuss Your Options with a Qualified Contractor
It's always best to hire a qualified contractor to install the windows in your home. This can eliminate problems such as improper installation which can cause the windows to be less energy efficient than they should be. If you're considering getting replacement windows of any kind it's best to call a contractor such as All Point Construction at 734-407-7110. They can help you choose the best options for your home. Call today for a free in-home consultation.