If you notice that the windows in your home have become drafty, this could indicate that it is time to replace them. Instead of getting new versions of the windows that you currently have, consider the benefits of upgrading to vinyl replacement windows in Southgate Michigan. Unlike wood, vinyl is a lot easier to clean. It does not absorb moisture the same way that wood does, making for a smart solution. Able to withstand both hot and cold weather, vinyl is normally a good option no matter which part of the country you live in. When you use vinyl windows instead of wooden windows you don't have to give up the appearance of wooden windows either. Today's vinyl windows can be crafted to look much like any other type of window frame material including wooden windows.
What You Must Know About Vinyl Replacement Windows in Southgate Michigan
There are many advantages of using vinyl replacement windows in Southgate Michigan. These advantages range from better energy efficiency, better appearance overall, or even better noise reduction in your home chances are these advantages can be obtained at a much better price than you imagine. In fact, the return on the investment for adding replacement windows to your home can be quite high. And if you finance the windows at a great rate the out of pocket expenses is must less as time goes on. Of course, the biggest determining factor is just how well your current windows are performing and their level of energy efficiency. Here are some more of the advantages of using vinyl replacement windows in Southgate Michigan and why you should consider adding them in your home: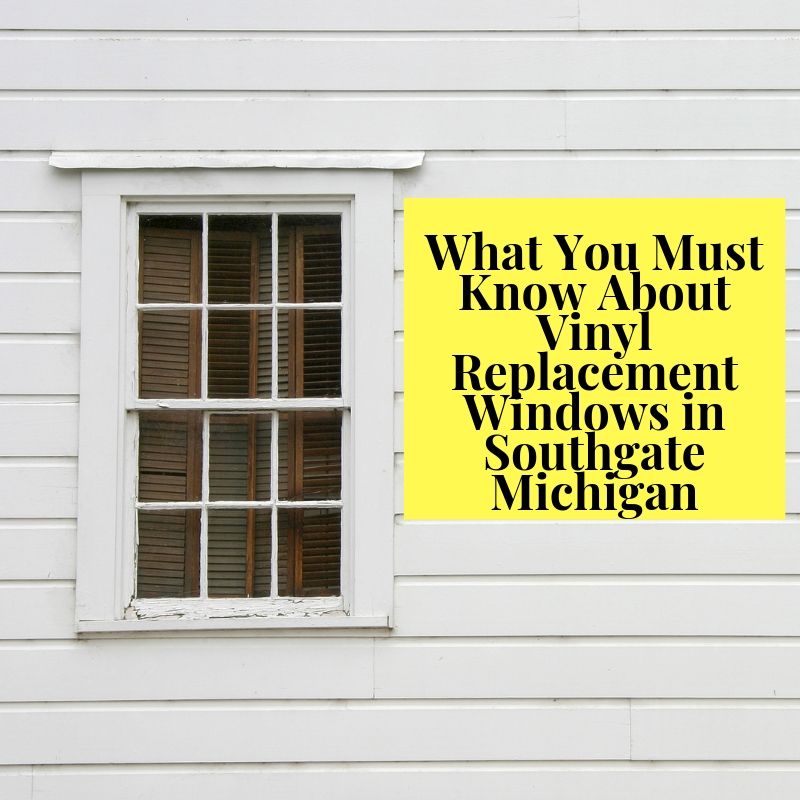 Vinyl windows are energy efficient; this is important because you will be able to cut the price of your energy bill. When you have windows that seal properly, you won't need to rely on your air conditioning or heating systems as much. There are also many attractive options that you can find to match your home. Vinyl is becoming more popular among homeowners. Because of all the benefits that are found from switching over, it makes sense that more companies are beginning to carry them. Nearly any style that you desire can be found. Ask your contractor to provide you with some options.
Vinyl Replacement Windows are Gaining Popularity
There is nothing new about vinyl windows. They were actually very popular in the past, and they have recently experienced another spike in popularity. In the United States, vinyl windows now make up 70% of all windows that are manufactured. When selecting a vinyl replacement window, you need to look for "all-vinyl" windows, as to not be confused by vinyl-clad windows. Vinyl-clad simply means that it is a standard window with a thin layer of vinyl. Windows that are comprised entirely of vinyl have frames that are made from PVC, which is an extremely strong and durable material.
Potential Tax Breaks
Another benefit to replacing your windows with energy-efficient vinyl ones comes from the potential tax break that you will receive. If you see that the windows are Energy Star rated, then you will likely be able to save some money. Overall, you can see that vinyl is probably the best way to go for your home. You can rest easy knowing that the replacement windows will be able to withstand the climate while also sealing tightly to protect your family. If you plan on putting your home up for sale, one of the easiest ways to renovate it for some additional added value would be replacing the windows. A little bit of effort goes a long way when it comes to vinyl replacements.
Get an Estimate on New Replacement Windows for your Home
While they can be relatively simple to install, it is recommended to utilize the help of a licensed and qualified home improvement contractor in Southgate Michigan. Not only will they be able to replace your windows correctly, but they will also be able to meet with you to discuss exactly what it is that you are looking for. Asking about which vinyl window replacement options he has available will likely leave you with the choice between many different models. To get your estimate today, contact All Point Construction at 734-407-7110! Our team is ready to help you find the perfect vinyl window solution for your Southgate Michigan home.