Do you windows whistle when the wind is blowing? Do you feel a chill to the bone when you're near your windows? If so, it's time to think about replacing your home's windows. Most people have at least 10 windows, so if they're aren't energy efficient, that means you're losing warm air during the winter and cold air in the summer. Plus, your energy bills will be higher. If you like the look of double-hung windows, the best choice to consider is Renewal by Andersen Ann Arbor Michigan. Double-hung windows are the most popular windows in North America, so if it's your favorite, you're in good company. Renewal by Anderson Ann Arbor takes double-hung windows to the next level, though. They're not average looking or boring. These are truly stunning windows, and they're the highest quality you can find. Here are just a few features you can expect:
Renewal by Andersen Ann Arbor – Best Replacement Windows Available
• Easy-opening doors, the easiest operating doors on the market
• A breeze to clean
• One-handed tilting of both sashes (moveable window panels)
• Many different window styles and color options
When your shopping for replacement windows in Ann Arbor, why not choose the Cadillac of double-hung windows? They'll protect your home from harsh winds, ice formation, and snow. Plus, your heating and cooling bills will be lower, since your new windows will be the most energy-efficient available.
You probably don't realize how many different types of sashes you can choose from. You can go with cottage-style (the lower sash is larger than the upper), equal (upper and lower sashes are equal in size), or Oriel (upper sash is larger than lower). Plus, many are available with up to a 6' tall fixed upper sash! These windows magnificent and stunning, with a money-back guarantee. When it comes to double-hung replacement windows, they're the top chose for restoration or renovation projects.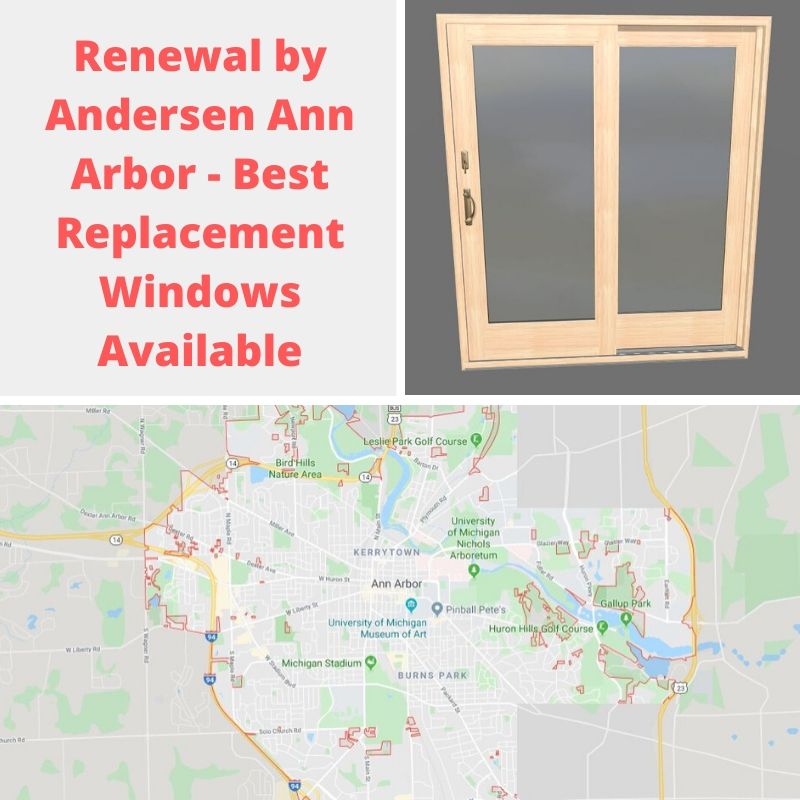 They're perfect for rooms facing:
✓ Patios
✓ Walkways
✓ Porches
They don't protrude into spaces, so they're the best option for areas like these. If you'd like replacement windows in Ann Arbor MI that are elegant and versatile, timeless and classy, then your best bet is to go with Renewal by Andersen Ann Arbor. They offer same day installation and are fully licensed and insured. They'll handle all the set-up, city inspections, permits, and debris clean up. Before you know it, your new windows will be installed, and you'll be enjoying the view a whole lot more.

Wouldn't it be nice not to hear your windows whistling, or deal with condensation issues because they aren't properly sealed? Your new double-hung replacement windows will be high-performing and top-rated, the most chosen by customers in North America. They're next generation windows, tried and true by homeowners.
Whether you're considering selling your home, or will live there for 50 years or more, you want the best windows available to surround your property. You might not have the time or funds to take on a total home renovation project, but updates like new windows are a great way to update your home without breaking the bank. The value of your property will increase, too. It's a win-win!