One of the biggest misconceptions that home owners have about their home's windows is when they need to be replaced. Many home owners consider the window to be in good working order as long as it's not broken. However, over time, windows can start to lose their efficiency, become drafty, and even have safety issues. Determining when to get replacement windows in Southgate Michigan can help your home be more energy efficient and more. In this article we'll discuss 4 important facts that you should consider about your home windows and whether they should be replaced or not. 
4 Important Facts To Consider For Replacement Windows in Southgate Michigan
Not only has the issue of whether to replace the windows on your home or not there are also other things many home owners consider. Some homeowners have misconceptions about window replacement in Southgate Michigan. They may believe window replacements are always expensive or that installation can be quick and easy. The truth is that while all windows are different, replacing old or outdated windows is often not only necessary, but beneficial to the entire home. New windows being installed in your Southgate Michigan can not only help repair leaks, they can also improve the aesthetic of the home, and possibly prevent larger and more expensive damage later on.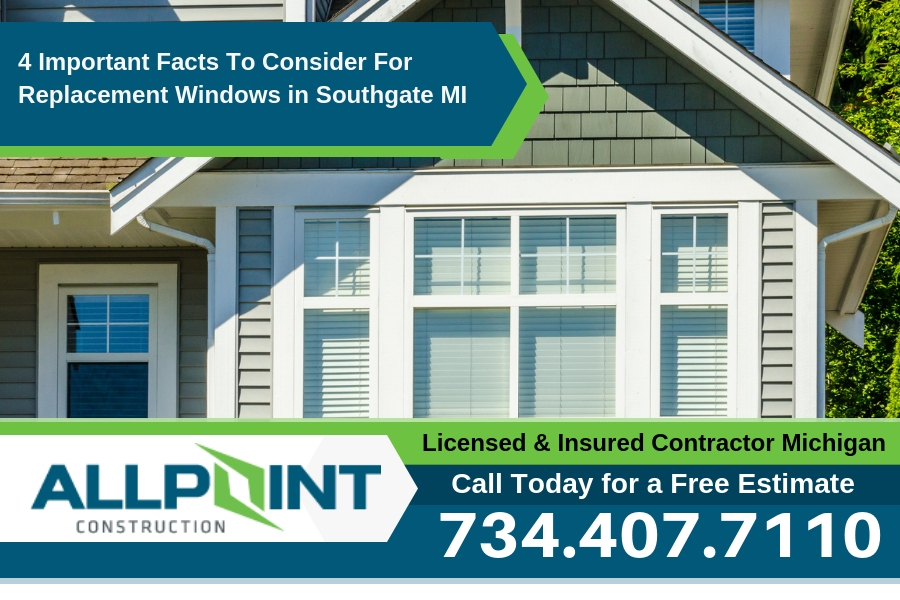 If you are thinking about replacing your windows, here are 4 important facts to consider.
Outdated Windows May Be Expensive In The Long Run
Old or outdated windows in your home can cost a homeowner in many ways. First, old windows can simply look bad and make the entire home look older or run down. Additionally, outdated windows in your home can be expensive in home energy bills as they may not be energy efficient. Because old windows may be not efficient or because old installation can cause the window to be loose to the home, homeowners may be paying too much to heat or cool the home. Finally, old, damaged, or inadequate windows may be a security risk. Burglars may look for outdated windows as they are easier to break into and often do not have a security system.
Hiring A Professional May Actually Save Money
Purchasing new windows for your Southgate Michigan home is going to be somewhat expensive and often homeowners believe that by installing the windows on their own, they can save money.  The truth is that DIY window replacement can actually end up far more expensive. First, any errors in self-installed windows can hinder the home from being energy efficient. Even the smallest opening can let air conditioning and heating out which will make the HVAC system run more and use more energy making your energy costs more. Also, small mistakes during the replacement process can cause serious or irreparable damage to the home's infrastructure.
The professionals at All Point Construction have been doing window replacement in Southgate Michigan for years. Their team of professionals are friendly and knowledgeable and will help you understand the best windows for your needs and provide fast and inexpensive window replacements.  Call 734-407-7110 to learn more about our window repair and replacement services in Southgate Michigan.
There Are Several Window Certifications To Look For
Most homeowners are familiar with the Energy Star certification which indicates that the windows are efficient in heating and cooling.  Often homeowners know to look for the Energy Star certification when finding replacement windows. Additionally, homeowners should keep an eye out for a U-factor number. This number provides a rating on the window's insulation abilities.
Extra Panes Mean Extra Protection
Windows come in several panes with the most common being double pane and triple pane. When replacing windows, many homeowners get confused about the difference. The truth is that high-quality double pane windows are a great replacement option, however, for the best in efficiency and longevity, triple pane windows are superior. The third layer can significantly reduce energy bills and have the added benefit of being noise reducing,
Replacing windows doesn't have to be a large headache. With a bit of research and some trusted professional installation you can keep your home safe, efficient and looking beautiful for years to come. Be sure to talk with the experts at All Point Construction today about replacement windows for your Southgate Michigan home.