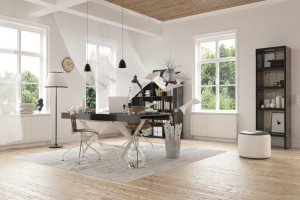 Are you looking for windows replacement in Downriver MI? Maybe your windows need replacing and you don't even know it. It could be that you feel your windows need replacing but you need help with making that decision. Windows often need replacing after a period of time, including vinyl windows. Storms, weather and other reasons can also cause a window to need replacing.  Take a look at these 5 signs to see if it's time to replace your windows.
You Feel Air around Your Windows
One of the signs it's time for windows replacement in Downriver, Michigan, is feeling air around your windows. If you feel a draft coming in around your windows, that means it's time to install new ones. Neglecting this problem could lead to more problems such as a higher electric bill and water damage to your walls and floors when it rains.
Opening and Closing Windows is Difficult
Another sign it's time for windows replacement in your home is the difficulty of opening and closing your windows. After a while, vinyl windows and other types of windows will become difficult to open and difficult to close. This can be quite a hassle and also cause other problems. When a window is hard to close, you will sometimes leave it cracked and not know it. This will cause you to lose the heat in your home during the winter and it will also allow rain to come in.
Your Windows Don't Match Your Home
If you have remodeled your home and didn't replace your windows, your windows may be outdated. Having an up-to-date house and old windows can make your windows stick out like a sore thumb. If this is the case, then it's time for you to replace them.
Windows are Deteriorating
If your windows are deteriorating, chipping and cracking, that's a sign that it's time for new ones. Windows that are deteriorating will soon cause many other problems such as leaking and causing drafts. In the winter time in Downriver, Michigan, the cold weather can get harsh and cold air coming in your home while you are trying to stay warm will cause problems. You will never be able to keep your home warm and your heating bill will go through the roof. Also when the snow and ice begins to melt, the windows may start leaking which is also going to cause you a lot of problems.
Windows are Hard to Clean
If you find that your windows are hard to clean, then it's probably time to invest in some new windows. If it seems you are always cleaning your windows and they are never clean, or if your windows are so cracked and old that they never look clean, it's time for window replacements.
For windows replacement and windows installation in Downriver, MI, contact us at Home Windows Michigan. We understand the importance of windows replacement in Downriver, MI. Our reputation speaks for us. We have been in business for over 20 years and our customers continue to vote us number 1 year after year. Our prices and quality of work cannot be beaten. We guarantee our work so you never have anything to worry about. Don't wait around until the damage is out of control, contact us today and let us handle all of your windows replacement and window installations. When you choose us, we treat you like family and we get the job done quickly so you can return to your normal routine.