A great home improvement project that you can do for your home is to replace your home's exiting windows with better, more energy efficient replacement windows in Downriver Michigan. And although it may seem like a simple process as some contractors make it look, there are many problems that you may have if you decide to replace your own home windows as a do it yourself project. We'll take a closer look at some of the problem areas you may have if you decide to go this route.
Should I Replace My Own Home Windows in Downriver Michigan?
One of the very first things you should do when you decide to get new replacement windows installed in your home is to talk with a window installation contractor and see what options are available. Having a reputable licensed contractor explain the different options that are available can ensure you pick the very best windows for your home. If not, you may end up getting windows that aren't much better than the windows that are currently in your home.
You'll also want to get an estimate on the entire project. Most home improvement contractors will provide free estimates and this can usually be done when the consultation is done for the home windows. Take a look at this estimate as it will likely contain many of the components and the windows that will be used along with the prices of each.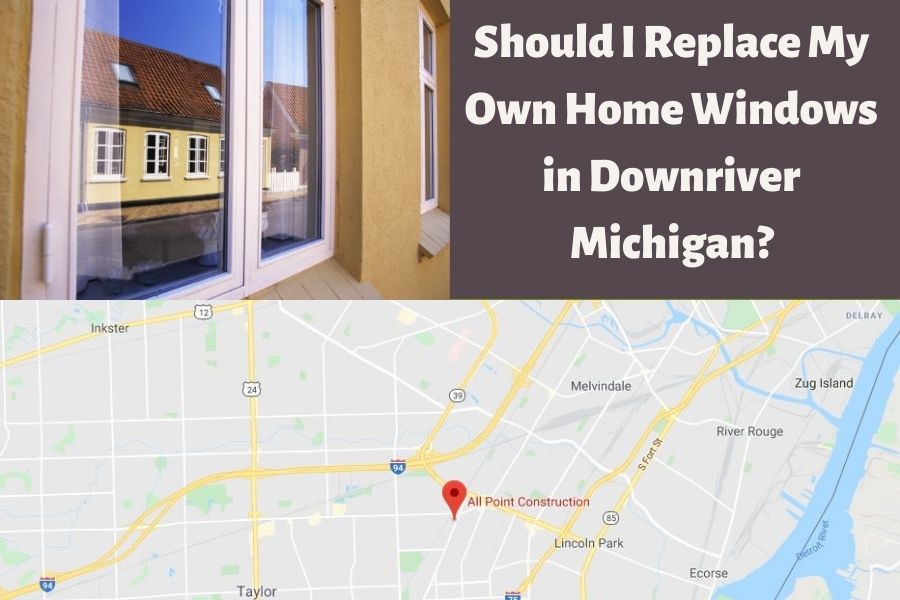 Comparing the DIY Version Versus the Contractor Version
There are some key differences when it comes to comparing prices from the contractor versus what you can do the project for yourself. Since many contractors have relationships in place with suppliers and manufacturers they usually get special pricing which they typically pass on to consumers. If you decide to install the windows yourself you may not be able to get this discount pricing for the windows. So doing the project yourself may actually cost you more than having a contractor do it in terms of material costs.
Selecting the Right Window Type for your Home
There are several different types of replacement windows for your home. One of the more popular types of replacement windows that many home owners decide to do themselves is the full frame replacement windows which are basically the complete window. The other type of replacement windows are just the window sashes. Replacing the window sashes does have it's benefits but improperly installing the sashes can result in drafty windows and many other problems. Replacing the sashes on the window is more popular among do it yourselfers as it may seem a little easier.
Will You Finish the Windows in a Adequate Amount of Time?
Any type of home improvement project can be a difficult one. And planning out a home improvement project in terms of when you'll do it or how long it will take is important. Removing your home windows and then taking days or even weeks to get them replaced is a very bad idea. You certainly don't want to leave your home open to the weather during the window replacement project. Not only that but if you don't install the windows properly you may open your home up to damage from water getting past the windows. Leaking windows is a common reason for mold growth and water damage in a home as well.
Without Proper Installation You May Not Have a Warranty
Having a licensed and qualified home improvement contractor install the windows for you means that you can rest easy knowing they are done correctly. A reputable window installation company will know the materials to use and the proper way the windows should be installed. Some contractors are also factory certified to install the windows from the manufacturer.
One of the more popular window manufacturers used in Michigan is Pella windows which has endorsed some installers in the Downriver Michigan area. One of those home improvement contractors that is fully endorsed by Pella is All Point Construction. Give them a call today at (734) 407-7110 for a free quote on your window replacement project. You may be surprised just how much you can save by hiring a certified contractor rather than doing this project yourself.