When looking to replace your current windows in Allen Park Michigan, you can end up overwhelmed and a bit put off by the seemingly daunting project. You may see all the various styles of windows at your disposal, along with all sorts of varieties in materials and energy ratings, and nearly lose your mind trying to make sense of it all. Before you give up all hope, take the time to think about a few factors that will help you to make sense of the project and you'll be set to replace your windows in Allen Park Michigan with ease.
Selecting the Right Replacement Windows in Allen Park Michigan
Today, there are many choices when it comes to replacement windows. Some of the biggest are design choices which determine just how the window looks. Here are some of the different window frame materials that are available today:
Vinyl windows
Metal windows
Wooden windows
But the choices go much deeper than just the materials the windows are made from. You'll also need to consider the maintenance requirements for the frames that you want on your home's windows. Not only that but you'll also have choices for the glass. Will the glass have grids included? How many panes? Should You choose low-E windows? Take a look at some of the tips below to get the best replacement windows for your Allen Park Michigan home: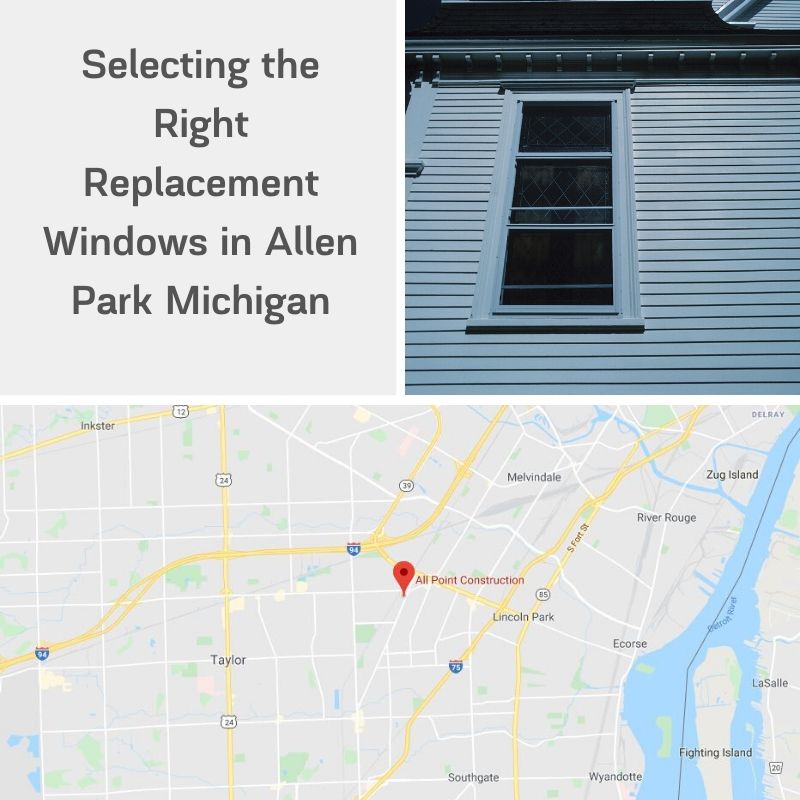 Form – You have to consider your style and form of decorating. If you have a clean modern and sleek style, you don't want to choose ornate and intricately detailed windows, nor would you go with a rustic approach. The same goes for the opposite. If your style is more cozy and shabby chic, rustic could be the way to go! You also have options with the frames and whatnot that you'll need to select with your contractor and manufacturer. You'll want to make sure your windows flow nicely with the rest of your home, so having a professional to walk you through will be a great advantage.
Function – Did you know that windows can both function by opening as you'd expect or they can be fixed so that they cannot be opened? If you need your windows to open and close to allow air in and ventilation, then make sure you are selecting windows that are fully functioning. The details of how they open and close are then the next set of options to consider. If you don't want your windows to open or close, for safety or any other reasons, then you can go with fixed windows. Take into consideration what a room is used for and what you may need out of those windows when you go to narrow down the types of windows you need to select and install.
Focus – While windows can work to allow for better ventilation and air circulation, they also serve to let in brilliant natural light and can even create a unique focal point in your home. Opting for big picture windows in your sitting area or kitchen could create a wonderful view that is sure to make a great difference in your home. Window combinations to let in the most natural light and view of the great outdoors can also pack a design punch in your home, so consider all the options on how you can mix and match styles to get the most out of your home.
As with any home renovation project that you may be considering, always consult a professional before buying or working on anything. A qualified contractor in a specialized field will be able to give you expert advice and guidance that will ensure you get what you need for your home at a price that is right for you and that these items will be installed the right way the first time. For your replacement windows, call today to begin considering all your wonderful window options. Be sure to call All Point Construction today at 734-407-7110 for a free, in-home estimate for installing new replacement windows in your Allen Park Michigan home. They are fully licensed and insured and have a standing guarantee on every project they complete. Call them today to learn more and get a free consultation.