When most people think about home windows the first thing that usually comes to mind is how well the window looks, how energy efficient it is, or the view that it provides. But there is one important feature that a window should have that never come to mind for most home owners and that is safety. Keeping you and and family safe means having windows that have features included that can help. In this article I'll go over some safety features and things you should look for in your home's windows in Michigan to determine just how safe they are. 
Safety Factors You Should Consider with Your Home Windows in Michigan
Your home's windows may provide a view to the outside world while enjoying the comfort of the inside but sometimes that isn't enough. Making sure your windows are in good working order with a few safety features can really help when needed. And although you may never need these safety features, if the unthinkable happens it's best to have these safety features in place. Much like a smoke detector or fire extinguisher, it's always best to be safe than sorry. I've included some tips below to help you determine if your home's windows are safe or if you need replacement windows in Michigan.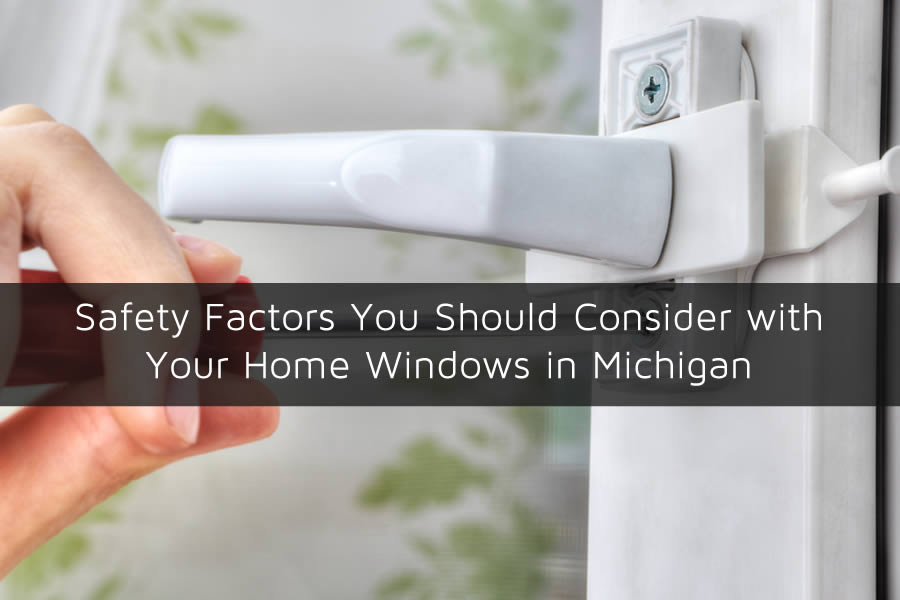 Double Locking Windows
Most older windows were manufactured with only a single locking mechanism. For lower quality windows these locks were also not tamper resistant. Modern windows manufactured today have tamper proof double locks for better security. Make sure the windows in your home have double locks and they operate as they should.
Windows That Don't Stay Up
As windows get older they start to show signs of wear and one of those signs are springs and components of the windows start to get stretched and sometimes break. It will usually cause the window to fall back down once it's raised. This can be a problem when attempting to get out of the home through the window in case an emergency arises that you need to exit through the window such as if a fire broke out in your home. For children especially it's important that they can raise the window and climb out if needed. You can also talk with your kids and ask them to raise or lower the window so they know how to operate it and can escape if needed.
Sticky Or Hard to Open Windows
One of the worst problems for homes with wooden windows is that they can be painted shut. If the window isn't operational and can't be opened or is hard to open it can really cause a problem if an emergency arises. Imagine going to a window in the event of a fire and the window doesn't open. As you can probably imagine it can create quite a situation. Make sure each of the windows in your home can open fully and easily in case of an emergency. Even if your home doesn't have wooden windows you'll need to check them nonetheless.
Broken Parts or Components on the Windows
Not only paint can cause a window not to operate properly. There are many other components in the window that can fail and cause the window to get stuck or not open. Sometimes damage to the track of the window can occur or springs and glides can also break and become lodged in the window track causing it not to open properly. Make sure each of your home's windows will open easily and stay open for best results. It's also best to talk with your kids and teach them how to unlock the windows if needed and raise the window in case of an emergency.
Get a Free Estimate on Replacement Windows in Michigan
By checking the windows in your home you can better tell just how safe your home would be if a fire was to occur. You also need to check the locks to keep people out as well. If you find problems with your windows in Michigan be sure to call one of the top window contractors in Downriver Michigan which is Adkins and Sons Windows at 734-283-7120. They offer free window estimates and are fully licensed and insured contractor based in southeastern Michigan.