Getting new replacement windows installed in your home is a great way to make it more energy efficient. But some home owners want the appearance of their old windows rather than new, shiny vinyl windows. They don't realize that many of the models that are available today come in a variety of styles, shapes, and materials. One of those styles of replacement windows in Plymouth Michigan is wood clad windows and there are several ways to achieve this look for your home.
Deciding Between Vinyl and Aluminum Wood Clad Windows in Plymouth Michigan
It's no secret that vinyl windows are energy efficient. But there are also other materials on the market today which can be just as energy efficient. In fact, even wooden windows that are available today have dual and triple pane glass and other features that make them more energy efficient. The biggest difference in these windows is usually the price. Vinyl windows are typically much cheaper. But don't let that deter you from at least getting an estimate and talking with a windows contractor about your project.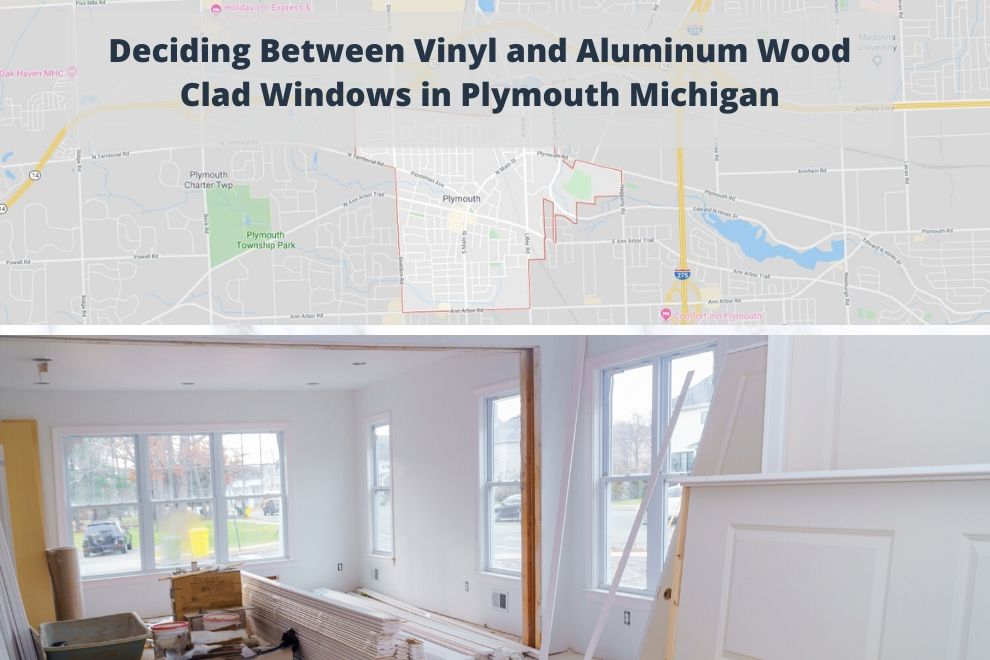 If you are looking to replace the windows in your home, there are lots of things that you need to consider. Firstly, you need to consider the materials you want to use for your windows. The wood clad option is increasing in popularity, and comes in either vinyl or aluminum. To help you decide which is a better choice for your home, you need to weigh the pros and cons of each.
What Are Wood Clad Windows?
Most people already know about wood, vinyl and aluminum materials for windows. But the wood clad hybrid is a newer, less known option on the market. Wood clad is when the frame is made of wood, but the exterior surfaces are covered with another more durable material like aluminum or vinyl. This allows you to get the wood look inside your home, without dealing with the problems wood can have in the elements. But it is important to consider just which exterior covering will be the best fit for your home.
Durability
Most people would assume aluminum would be the more durable option when it comes to windows, but is actually more prone to damage than other materials like vinyl. For example, aluminum and vinyl can both fade due to exposure to UV rays over time, but only aluminum can corrode. Aluminum is also more prone to dents.
Energy Efficiency
Aluminum has a high U-value compared to vinyl, making them less energy efficient that vinyl. This is because aluminum is a type of metal, which conducts heat and makes it harder to regulate your home's internal temperatures. Aluminum can also promote greater levels of condensation on your windows and on the frame itself. This can be problematic because you can end up with condensation spreading and sitting on the wooden parts of the window. If you have energy efficiency as a high priority for your home, you should opt for vinyl windows.
Security
While aluminum may have more physical damage issues than vinyl, the materials overall strength exceeds that of vinyl. That means greater security, as well as greater privacy with aluminum providing more noise cancellation.
Aesthetic
Because there are two different materials making up your windows, it can be a little odd to look at, compared to a window made of all one material. But vinyl is unique in its ability to mimic the appearance of other materials like wood. This means you could have a vinyl wood clad window that looks just like an all wood window. Aluminum cannot do that.
Customization
If you want to create a more customized appearance to your windows, you want to go with vinyl. This is because vinyl has over 350 different color options, as well as the ability to print the material to look like something entirely different. From an eccentric print to a classic color, stone, brick and anything in between, you can make vinyl mimic the appearance of another material without any of the upkeep. You can also paint vinyl if you want to change the color down the line. Aluminum cannot be painted and does not have the customization capabilities of vinyl.
Get a Quote
No matter what style or design you are considering for your home windows project it is always best to get a quote from a licensed home improvement contractor. At Home Pros Plymouth, they can install your new windows quickly and according to local building codes and manufacturers specifications to ensure they last a long time. Call them today at 734-548-9911 for a free quote!