There are many ways to make your home better. From replacing the siding on your home to adding shutters, these things can not only make your home more beautiful but it can also make it more valuable. Increasing the curb appeal on your home can certainly make it worth more but there are other things you should consider when it comes to a home improvement project. One of the home improvement projects which can not only give you that great curb appeal along with other benefits such as energy efficiency is to replace your home windows in Southgate Michigan. But before you get new replacement windows for your home there are some things you should consider. We'll round up the top 5 things that you should consider before you decide to have a contractor in your home.
5 Things You Should Consider Before Buying Vinyl Replacement Windows in Southgate Michigan
Even when you decide to get new windows installed in your Southgate Michigan home there are many options that you should consider. But before you decide on anything it's best to consider the following pointers.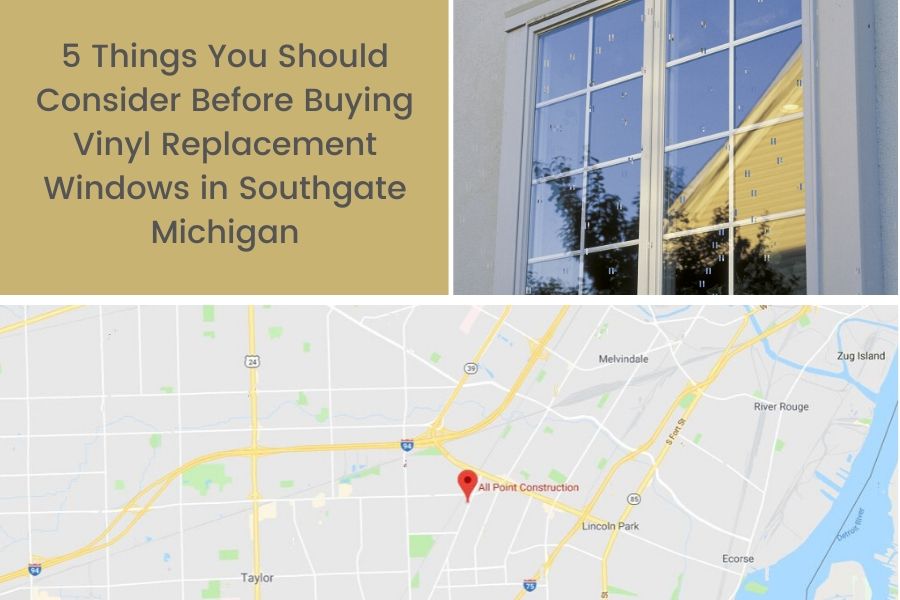 1 – How Energy Efficient is the Windows
Upgrading your home windows is a great way to make your home more energy efficient. In fact, all windows and doors that are sold today have the energy efficiency rating displayed right on the window. This lets you compare different windows and be able to determine just how energy efficient they actually are. Depending on the existing windows in your home and how energy efficient they are, this can be a huge improvement. And with better energy efficiency you can enjoy savings on energy costs for years to come after you get new windows installed.
2 – What Materials are Used in the Construction of the Windows
In the past, the main material used to make home windows was wood. Wood windows are still around and available but there are other options today as well. One of the most popular window materials today is vinyl. Vinyl windows look great and have many benefits such as keeping their appearance and needing very little maintenance. You also won't need to worry about the window rotting or insect damage to the windows. Not to mention you won't need to paint them. While vinyl windows are popular and inexpensive, there are other options as well including fiberglass and metal windows.
3 – Noise Reduction of the Windows
One thing that many home owners never consider is how well the windows reduce noise in the home. If you live near a busy intersection or roadway the noise can be a problem. There are window options which can help to reduce noise in the home. These options include using tempered glass in the windows as well as installing triple pane windows instead of the standard double pane windows.
4 – Get the Warranty Details for the Windows
Replacement windows today typically all have some type of warranty attached. Depending on the window manufacturer the warranty is usually given at the time when the windows are installed. Some of the warranties today can last for more than 30 years. Even low quality windows today have a warranty of at least 10 years in most cases. However, no matter what type or length of warranty you are given for the replacement windows you'll need to make sure they are installed properly in order for that warranty to be honored. That means you'll need to hire a qualified window installation contractor to install the windows. They should be properly licensed and insured as well. In fact,  it's best to use a contractor that is endorsed by the window manufacturer.
5 – Who Will Install the Windows?
As I mentioned above, you'll need to hire a windows contractor in Southgate Michigan that is properly licensed and insured. One of the best window installation contractors in Southgate Michigan is All Point Construction. As a Pella Windows endorsed contractor they can install your windows per manufacturers specifications so that your warranty is always honored if there is a problem later. All Point Construction also offers free consultations to help you decide which windows are right for your home. To talk with a representative now be sure to give them a call at (734) 407-7110.